---

It is the "gotcha!" photos of songkhran that are the most sought after and enjoyed. However, there are few of them considering that most people would not risk their hi-tech equipment to a drenching--and drenched you will get, even a camera around your neck will not deter the revellers from attacking you. If you are on the streets during this holiday, you will get wet.
---

Knowing this, I traded in my SLR for a focus-free, all plastic, point and shoot camera. No, not a Canon camera. It was a no-name plastic little jobbie that cost around five US dollars--not disposable, but close to it. The shutter is fixed at around 1/125 and aperture probably around f/16. To compensate for the inflexibility, I traded in my usual pro slide film for a ISO 400 color print film, which gives far more latitude for exposure.
---

The more rapacious of the revellers like to pile into the back of a pickup with their weapons and cruise around the city doing battle with those on foot. When they run out of water, though, they become easy, unarmed targets.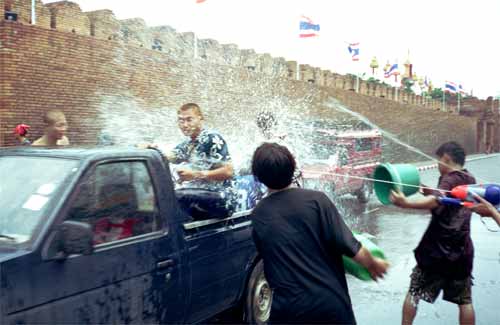 ---

These mobile attact vehicles are somewhat the source for the traffic jams that spring up all around the city. Traffic comes to a literal standstill for hours at a time while everyone has fun throwing massive amounts of water at each other. People with legitimate business are not immune, as you can see from the rubbish collecters below.