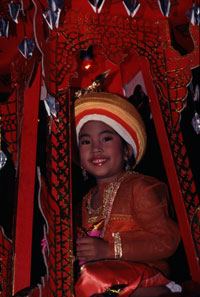 There are at least three main parades during Loy Krathong, and several little ones organized by various groups.

Left and right, these participants seemingly have the easy job--sitting down on a float during the procession. Other people, including bands, dancing transvestites, and the firebreathers featured on another page here, have the hard job--they have to walk the entire route of the parade.

However, even this is not as easy as it seems. The parade will start and stop several times in the course of the night, taking hours until the sitting is over--as well as the smiling, which is more of a chore as the evening drags on.

Below, these kinds of beauty queens are a common site. In the days previous to the parade, there have been contests to see who the queens will be, including weighing and measuring the contestants.